Webinar: The New Procurement Decision Tool: A Case Study of the Toowoomba Second Range Crossing and a Major Hospital Project (Recording Option)
12:30pm Thursday, 20 August 2020
1:30pm Thursday, 20 August 2020
The Tool is designed to significantly advance Value-for-Money in the delivery of civil and building infrastructure, and is designed in such a way that it can replace the procurement approach in Austroads and Australasian Procurement and Construction Council's Building and Construction Procurement Guide. The identification of the most efficient bundling configuration (or contract packaging) within a project, including the most efficient nature of contracting (i.e. from collaborative to competitive contracting associated with each contracted bundle) is central to the Tool advancing Value-for-Money.
The Tool is not pre-disposed to any mode of procurement. This feature of the Tool promotes objectivity in decision-making. And since both government and industry can equally effectively apply the Tool, this promotes accountability and transparency of decision-making. The effective application of the Tool is likely to yield industry and macroeconomic benefits beyond the microeconomic benefits associated with the efficient delivery of individual projects.
The Tool is cited by Australia's Productivity Commission and cited by the International Transport Forum (ITF) at the OECD, as part of the "way forward".The application of the Tool to TSRC was funded by Austroads (report available at: https://austroads.com.au/publications/project-delivery/ap-r624-20) and the application of the Tool to a major hospital project in Australia was funded by Infrastructure Australia. The use of the Tool on TSRC and on the major hospital project forms the basis of the Tool's forthcoming user guide to be published by Infrastructure Australia. With the prospect, post-coronavirus (COVID-19), of the most acute fiscally constrained environment since the Great Depression, the use of the Tool is compelling to ensure that the best Value-for-Money is delivered and demonstrated on each and every new infrastructure project.
About the Speaker
Associate Professor Adrian Bridge, FAIQS, CQS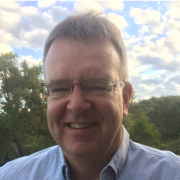 Adrian holds an undergraduate and masters degrees in construction and project management, along with a PhD in the microeconomics of procurement. He is a Fellow of the Australian Institute of Quantity Surveyors and a Chartered Quantity Surveyor. Adrian is currently an Associate Professor of Project Management at QUT.

Adrian is a world-leading authority in the procurement of infrastructure, having led a landmark Australian Research Council (ARC) grant on major infrastructure procurement whose outcomes have been endorsed by Australia's Productivity Commission, the OECD and the National Bureau of Economic Research, USA. Adrian is currently leading another large ARC grant on developing innovations in the procurement of schools which has already been endorsed by the OECD. Adrian is also leading two further procurement-related research projects funded by Infrastructure Australia and Austroads.
Price:
AIQS Members - Complimentary
Non-Members - $70 (incl. GST)
CPD Points:
1